Villa Layout
Blue and white Moroccan-style tiles adorn the floor, while baroque upholstered armchairs and ornate hurricane lamps and chandeliers bring an exotic vibrancy and glamour to the living area that forms the social hub of this truly superb villa. French doors open the length of the room making it deliciously light filled and airy, allowing spectacular views over the glistening aqua swimming pool and verdant garden. As befitting with a villa of this quality, Villa Sayang d'Amour also boasts a well-equipped entertainment room and a huge gourmet kitchen.
Discretion and privacy are the hallmarks of the two guest bedrooms located on either side of the living area. An elegant internal staircase with blue washed walls leads up to two further guest bedrooms which boast intimate balconies with views over the garden and pool.
The jewel in this villas' already dazzling crown is a spectacular rooftop garden and lounge. A shady gazebo, the centerpiece of this magical outdoor area, provides the ultimate setting for entertaining and socialising.
Two individual pavilions, nestled within the garden on the far side of the pool, house luxuriously appointed master bedrooms with spectacular views over the garden and pool and back towards the main residence.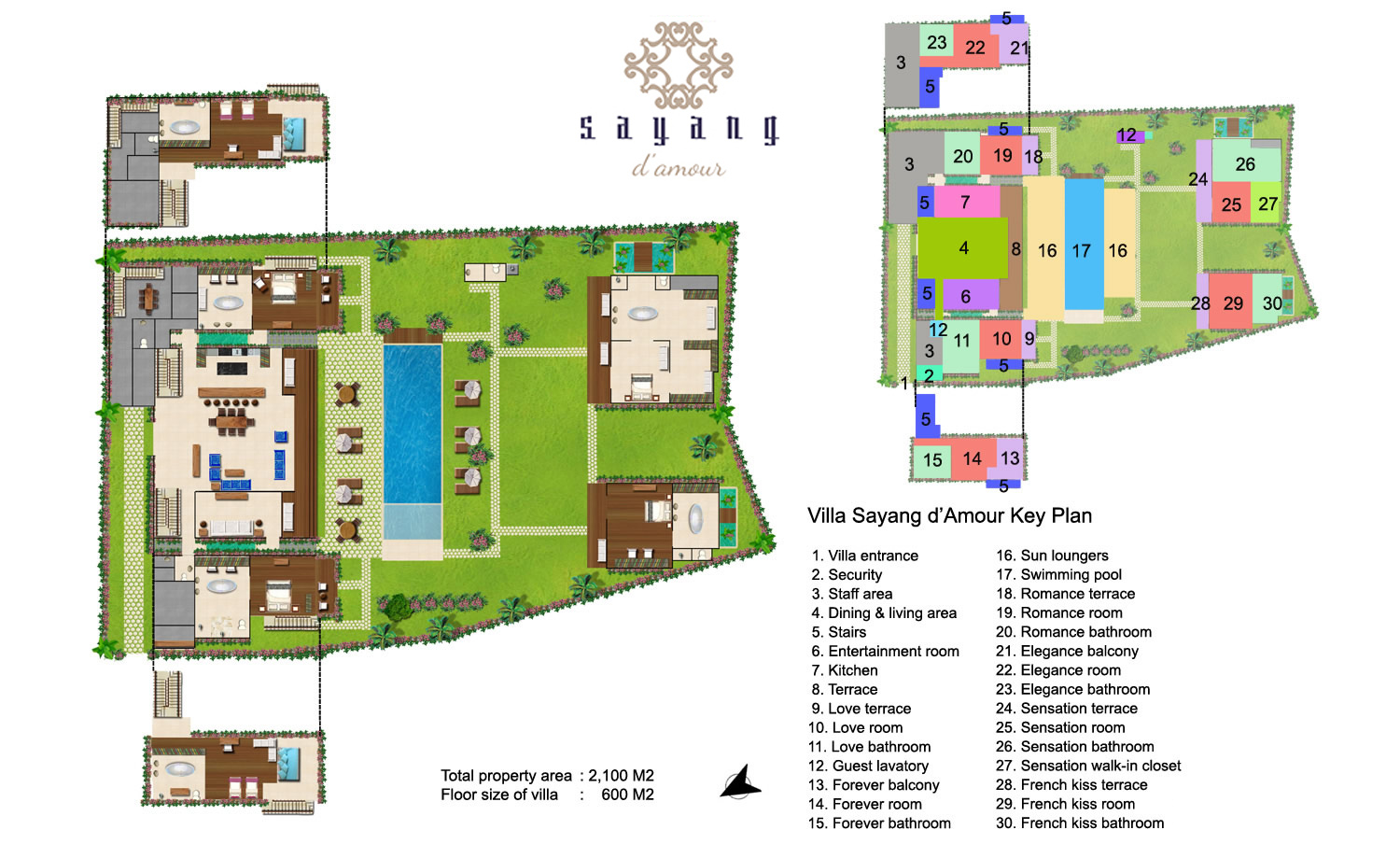 Download in high resolution
Living Areas
Indoor living
Signature blue and white Moroccan tiles bring a stunning elegance to the villas' astonishingly large, bright and airy lounge, kitchen and dining areas
Guests can luxuriate on the oversized sofas, enjoy a meal at the dining table for ten, sip a drink at the bar while watching the private chef in action or steal a quiet moment at one of the many intimate seating areas arranged throughout the room. There's even a custom-made dining table for the kids. The French doors which run the length of the dining and lounge area can be opened onto the pool and garden to give a wonderful sense of indoor/outdoor living, or closed to provide absolute air-conditioned comfort
The villas' gourmet kitchen, with its custom-made fittings, imported French appliances (including a state of the art coffee machine), and stunning collection of tableware, is a delight
After dinner, the air-conditioned entertainment room, complete with 56-inch flat-screen TV, beckons! Here, guests can make themselves comfortable on the leather sofa and enjoy watching a DVD chosen from the villas extensive private collection
Outdoor living
Day or night, when it comes to relaxing outdoors at Villa Sayang d'Amour, guests are literally spoilt for choice. With the huge main pool as the central feature, guests can enjoy relaxed poolside dining, with seating for 8 people. Similarly, there are ample deck chairs with umbrellas for those wishing to enjoy some sun and maybe sip on a cocktail or two. The main pool has been modified to include a shallow area for the little ones at one end (30cm depth), as well as a stunning waterfall feature which is sure to keep them amused
Nestled in a secluded corner away from the pool area, is a romantic covered daybed, sitting under a beautifully scented Frangipani tree
The Villas' spectacular Tropical rooftop garden area has been immaculately landscaped, and is the ideal place to catch those balmy Bali breezes. Whether it be a ' high-tea' under the gazebo, or cocktails and canapes under the stars – this outdoor space is sheer perfection
Bedrooms
Sensation - Master Bedroom
Housed in its own pavilion on the far side of the swimming pool, the enormous master bedroom, a study of light and air, provides guests with a sanctuary that is both opulent and practical.  Decorated in pale blues and sea greens, it features a sumptuous canopied king-size bed, Venetian glass dresser, chaise longues, oriental rugs, a writing desk and a daybed strewn with an array of colourful cushions.  The ensuite features a magnificent claw footed bath with an overhanging chandelier and shuttered windows to let in the gentle Balinese breezes.
French Kiss
This spacious bedroom, also located in a stand-alone pavilion within the gardens, features a king-size bed with a romantic canopy as well as a writing desk, sofa and a television with DVD player.  The ensuite bathroom is equipped with a freestanding bathtub, double sinks and both an indoor and a secluded outdoor rain shower within a tropical garden.
Love and Romance
The two downstairs guest bedrooms, on either side of the main living area, feature exquisite French-style king-size beds.  Antique oriental rugs adorn Moroccan tiled floors, resulting in a timeless charm and elegance.  On a more practical note, each of the bedrooms has a writing desk and a superbly comfortable sofa providing the ideal place to relax, read a book or watch television or a DVD.  The spacious ensuites feature a statement freestanding bathtub, double sinks, special make up lighting on the mirrors and private outdoor showers surrounded by tropical gardens.
Elegance and Forever
Graceful internal staircases on either side of the living areas lead to the upper floor guest bedrooms, each of which is furnished with a pair of queen beds adorned with delicate canopies.  These wonderfully spacious rooms feature sofas, television and DVD player making them absolute private havens.  Ensuites are fitted with a freestanding bathtub, double sinks and special make-up lighting on the mirrors.